Apple just released their third-quarter earnings report and wow, there's some stuff to talk about in here…
One of the biggest things to note on Apple's Q3 results is a major milestone: Apple now has over 860 million paid subscriptions across their services – Apple Music, Apple TV+, iCloud and more. That is many many peoples. Lots of people 860 million is.
Announced during their earnings call by CFO Luca Maestri, they said over 160 million of those subscriptions were acquired within the last 12 months. Maestri didn't offer a complete breakdown of exact subscriptions per service but they noted growth was exceptionally strong in Apple TV+ and Apple Arcade.
Secondly here in FrontPageTech.com's super advanced financial analysis: Mac didn't do so goodly ☹️, but why tho?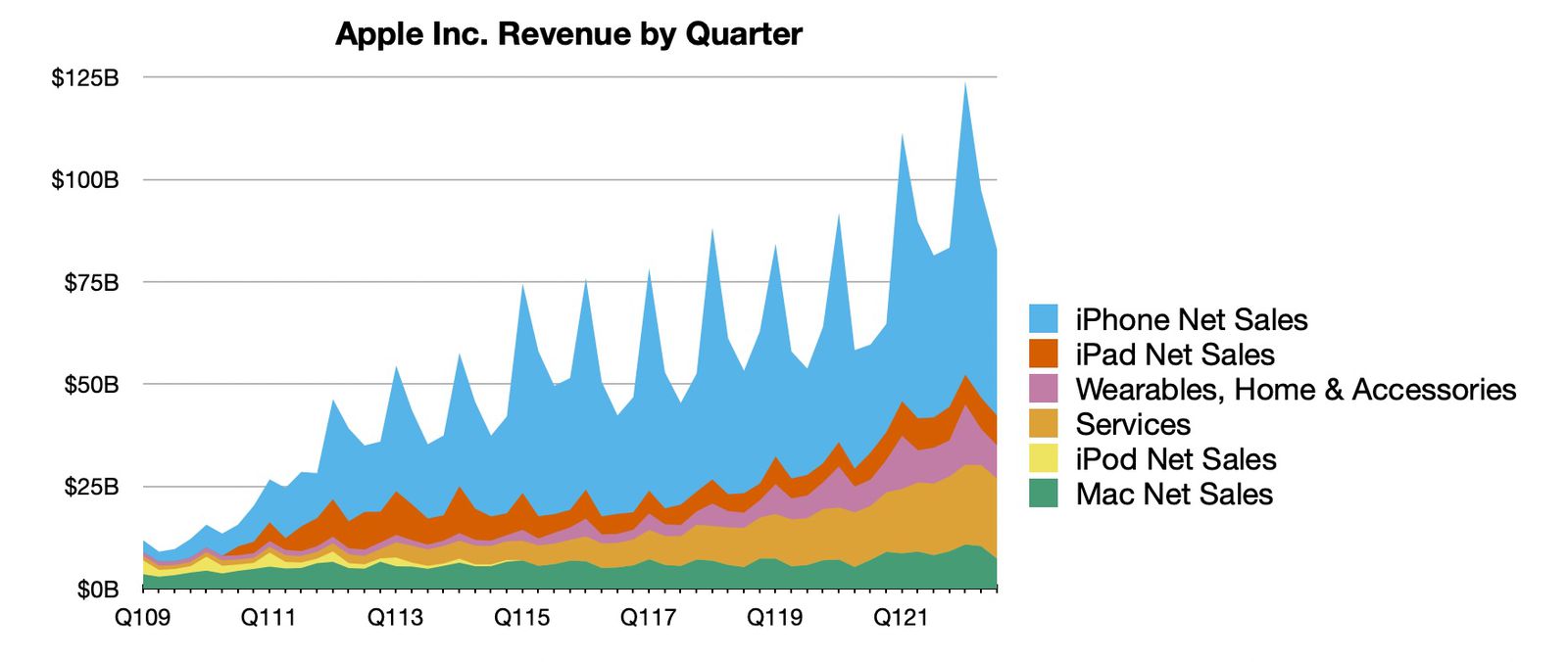 If we look at Q3 2022 compared to Q3 2021, Mac sales are down from $8.2B to $7.3B; that's about 10%. That's a very notable decline given the notable product launches in the timeframe.
Mr. Timothy Cook has elaborated, saying he attributes the loss of sales to two major factors: supply constraints and a general industry-wide decline of PC sales. Supply constraints definitely make sense. Have you seen the estimated ship times on new Macs? Even if people want to buy them, it's hard to go through with the purchase when you'll get the product in a month, or more.
And thirdly… thirthdly? The threeth thing we're gonna talk about is iPhone sales: wait for it… they're up from last year. Shocking I know. I'll give you a second to collect yourself.
It's always impressive that year over year iPhone keeps getting more popular. iPhone revenue is at $40.6B, up from $39.5B Q3 2021. That's it. Yay more money.
Here's a quote from Tim to wrap it all up:
This quarter's record results speak to Apple's constant efforts to innovate, to advance new possibilities, and to enrich the lives of our customers. As always, we are leading with our values, and expressing them in everything we build, from new features that are designed to protect user privacy and security, to tools that will enhance accessibility, part of our longstanding commitment to create products for everyone.

Tim Cook
Good job making money, Apple. Keep making not-sh*tty stuff and in my professional, educated opinion I bet you'll make more moneys again next time.